Benefit from a complete marketing system when you connect your Magento store to Infusionsoft through Revenue Conduit
Sync all your data to Infusionsoft
As your customers buy, Revenue Conduit automatically syncs all your customers, orders and products to Infusionsoft.
Associate tags to products
Associate one or more Infusionsoft Tags with each of your Magento products. We'll even create the Tags for you! By associating a Tag to your product, you can easily start cross-sell and upsell campaigns, as well as segment your New Customer Welcome Campaign and other campaigns based on the product(s) bought.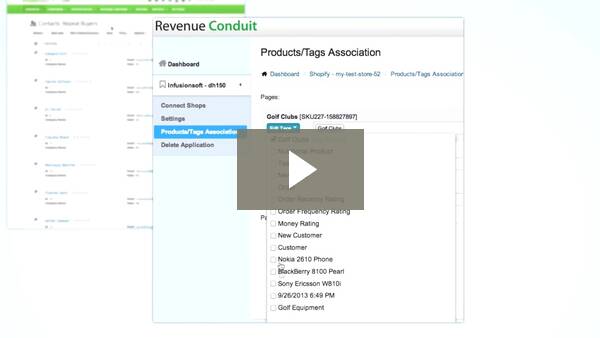 Associate tags to categories
Associate one or more Infusionsoft Tags to your Magento product categories. By associating Tags with product categories, you can build hyper-targeted lists of buyers for future promotions and campaigns, plus segment your follow-up by the category of product purchased.
6 FREE Infusionsoft campaigns
Revenue Conduit is not just an integration. We provide a Marketing System for online retailers. Within 24 to 48 hours after you sign up, Revenue Conduit will install a Marketing System in your Infusionsoft app, including 6 campaigns, custom fields, Tags, saved searches and dashboard widgets. Revenue Conduit was co-founded by Daniel Kurt, an Infusionsoft Certified Consultant with e-commerce expertise and the Marketing System is worth thousands of dollars. You get it for FREE when you sign up for a 30-day free trial.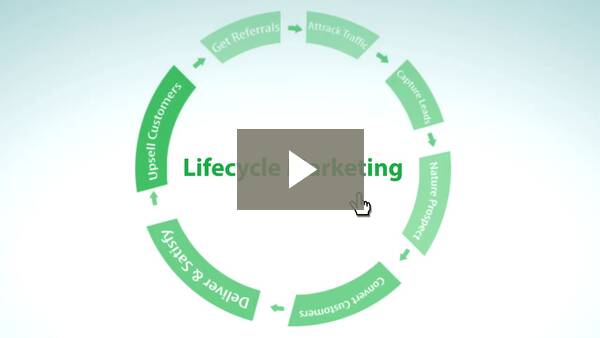 This one feature alone can provide you with a return on your investment in Revenue Conduit and Infusionsoft.
Automatically segment your customers based on the last time they bought, how many times they bought and how much they have spent. Using data that Revenue Conduit calculates prior to syncing your customer after they place an order, your customers will be given a 1-5 rating for Order Recency, Order Frequency and Monetary. This is called RFM Segmentation. The big e-commerce companies use it, and now you can, too!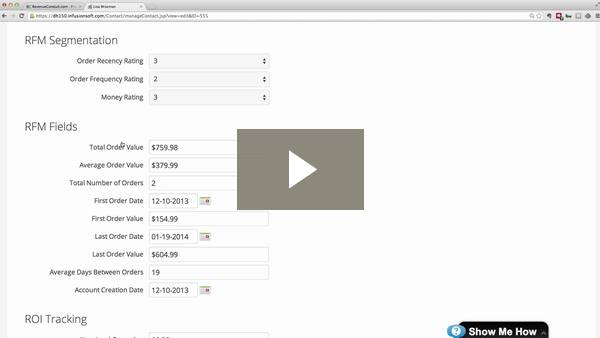 Easily see how much revenue your campaigns generate and track your return on investment. We even build Infusionsoft Dashboard Widgets that show you the ROI and other vital metrics from the 10 campaigns that come with Revenue Conduit.
Referral partner integration
Give your affiliates and referral partners commission on sales they help you generate on your Magento store.
If your customer opts-in to your marketing during checkout, Revenue Conduit will apply your Newsletter Tag to their contact record. Whether or not you use this feature, Revenue Conduit syncs all customers to Infusionsoft as marketable.
Revenue Conduit syncs the Customer Group to Infusionsoft, allowing you to have specific follow up for each customer group.
Voted the #1 Infusionsoft App in the 2014 Battle of the Apps Contest!
I scoured the internet looking for a tool to help us integrate Magento with Infusionsoft and was frustrated when I couldn't find a solution. I actually spent a lot of money on another solution that ended up not working out. Then I found Revenue Conduit and couldn't be more pleased. Dan and his team imported our historical data from Magento and created a seamless integration between the two platforms. Not only that, but I love the tools that Revenue Conduit puts in place to help us learn about our customers purchasing habits. I highly recommend Revenue Conduit!
GarageFlooringLLC.com is an e-commerce site that sells high end garage flooring and we needed a way to tie multiple systems together. Inusionsoft and Revenue Conduit were the PERFECT solution.
Revenue Conduit instantly tied our orders into Infusionsoft and created campaigns that made follow up easy. When our custom order numbers presented an issue to Revenue Conduit they literally re-coded the software, at no charge to make it work.
Using Revenue Conduit for our Magento + Infusionsoft integration was the BEST decision we made.
When signing up the guys at Revenue Conduit will create several campaigns within our Infusionsoft campaign builder, so that it connects really deeply into our Magento website.
And the best part is that they don't just leave you hanging to figure stuff out on your own.
There are several awesome videos that are specific and simple to follow instructions – step-by-step on how to connect and use Revenue Conduit product as a bridge between Magento and Infusionsoft.
I actually learned new stuff about Infusionsoft as a result of these videos.
We also received outstanding personal customer and tech support – all while still on the free trial and before we even purchased the product.
We are very happy with Revenue Conduit and highly recommend this extension and the guys at Revenue Conduit.
Infusionsoft has a built in e-commerce app but compared to shopify or Magento it simply sucks. As such, it was out of the question for me to use Infusionsoft as my shopping cart, and I went with Magento instead.
Dan and his team have not only created an app that works as advertised but they also know Infusionsoft like the back of their hand. As such they not only integrate your existing store with Infusionsoft, but they have also built a set of campaigns and sequences for you that they implement into your backend, so you can understand your customers better.
On top of that, they are very responsive to feature request and are willing to go the extra mile to get things done.
We used it for Magento and it is working just fine. It still needs to be improved but new features are added on a quarterly schedule.
I had looked at a competitor and installed it but it did not work as flawlessly as Revenue Conduit. It also comes with a series of videos that show you how things are done. I found these to be rather valuable.
If you already have an online shop with loads of historic data, Dan and his team can import that data for you into infusionsoft and analyze it, so you know what your best customers are. Then they help you to build campaigns based on that data. Of course, this service comes at a fee but there aren't many things that deliver a better ROI than that.
At the end of the day, I am very happy with it and I would choose it again.
Dan and Parag have been amazing. From explaining what their program did, to implementing it and getting us set up.
Right now, Dan is digging into our customer order history and finding some terrific stats with which to take action on. Campaigns are being built by Dan and his team and we are looking forward to increasing our customer order rate and customer satisfaction at the same time through automated Infusionsoft campaigns.